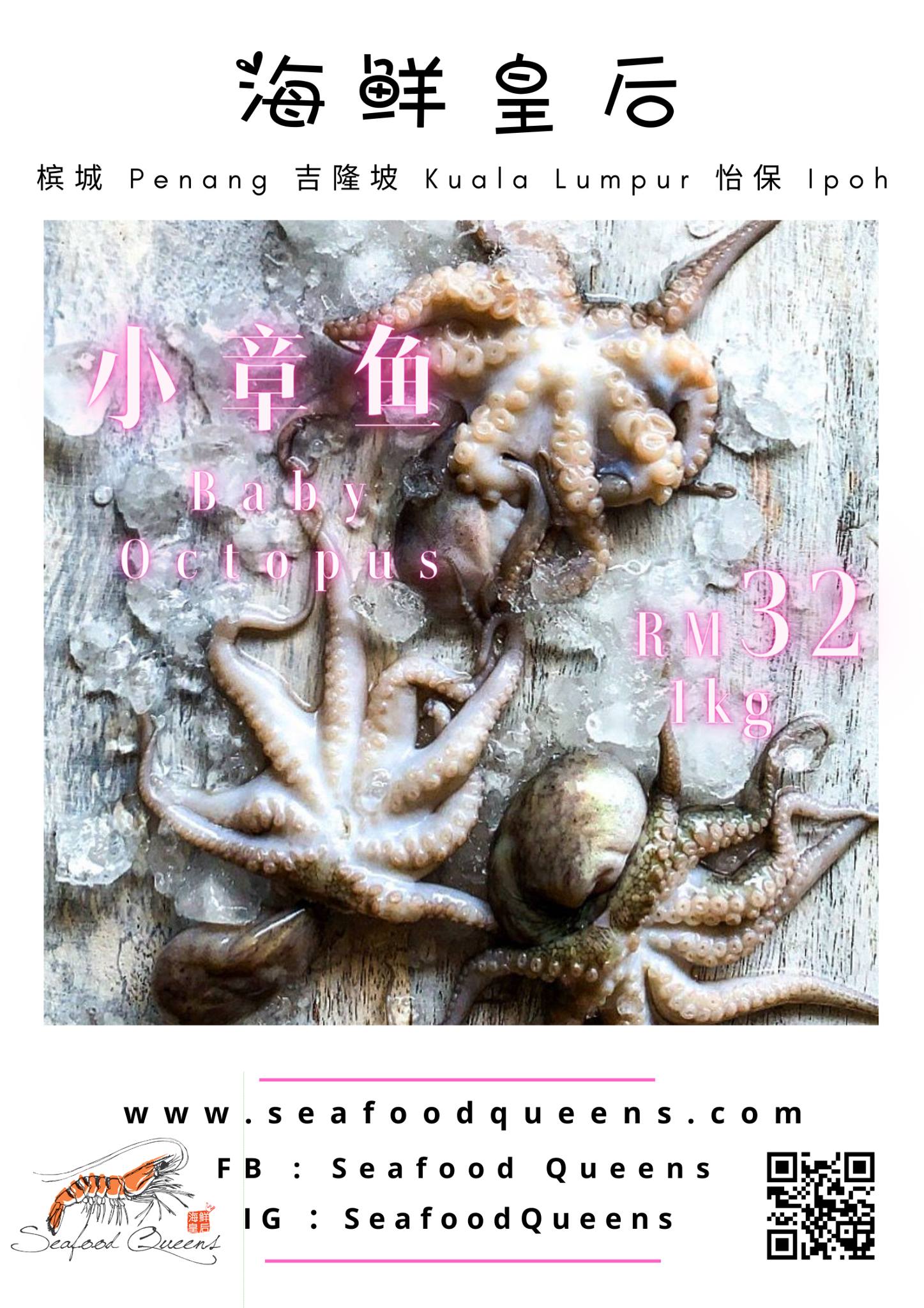 🐠🐠🐠 够大,够弹,够鲜 Big, Elastic, Fresh ‼️
🇲🇾 新鲜小章鱼 Fresh Frozen Baby Octopus 🐠🐠🐠
🌸🌸🌸 ‼️‼️ RM 32/ 1.0 kg ‼️‼️ 🌸🌸🌸
❌ 平常价格normal price RM 35 ❌
🌖🥮 中秋节活动 & 双 10.10 优惠价:
😍 Mid-Autumn Festival & 10.10 Promotion
🌻Healthy *************** ☘️ 鲜活加工,急冻锁鲜 ☘️ Immediately flash-frozen to lock in all nutrients 🌻 本地100%海水野生捕捞,渔夫新鲜捕抓上来,急速冷冻,快速地将海鲜的营养和鲜美牢牢锁住,解冻之后口感及营养保持好。The Farm processes the Premium Ocean Wild Caught Baby Octopus right here. To ensure Freshness and Quality, Baby Octopus are packed within hours of processing. Hence, FULL nutrients and flavours are well-preserved !! ☘️ 严选品质,安全新鲜 ☘️ Quality Control. Fresh & Safe. Fine Selection 🌻 鲜嫩肉质,爽滑鲜美 🌻 自然生长,纯净海域 🌻 天然原味,鲜美如初 🌻 精心挑选,紧致嫩弹 🌻 口感地道,劲道十足 🌻 体型健硕,营养丰富 🌻 各式煮法,蒸烤炸汤 ⚠️ 购买后3个月内食用,品质最佳 For best quality, consume within 3 months from purchase!
💃🕺马上行动吧!享受鲜美无比的海鲜直达味蕾! Act now! Let's Seafood Queens take care of your Seafood Needs. Enjoy the Premium freshest catch right at the Door Step !
🚚 三个地区同步运送! Deliver simultaneously to 3 States !
☘️ 吉隆坡 Kuala Lumpur +6019 559 7899
☘️ 怡保 Ipoh +6011 1612 34125
☘️ 槟城 Penang +6011 5509 8088 / +6012 431 1051
直接下单购买 Order Directly
***** ***** **** ***** *** *****
🌸 客服 Customer service - Messenger / Whatsapp
🌸 网站 Website - www.seafoodqueens.com
#SeafoodQueens #海鲜皇后 #小章鱼 #BabyOctopus #Squids #鱿鱼 #Mackerel #马鲛鱼 #龙虎斑 #SabahGrouper #鳕鱼 #澳洲鳕鱼 #CodFish #AustralianCodFish #三文鱼 #挪威三文鱼 #Salmon #Norwegiansalmon #Barramundi #金目鲈 #老虎虾 #白虾 #TigerPrawns #Vannamei #海鲜 #鱼虾 #虾 #seafood #prawns